Denture Implants And Dental Bridge Options In Charlotte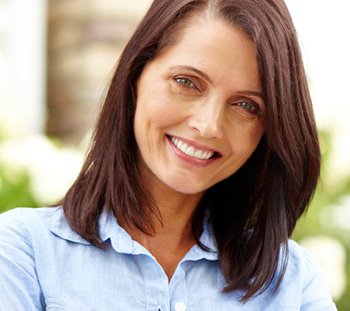 At Advanced Dental Care of Charlotte we offer premium, permanent dentures using denture implants to our Myers Park – Dilworth area patients who are missing all or many of their teeth. We also offer permanent bridges that are anchored with durable denture implants for those who are missing one or more teeth.
You might be familiar with traditional dentures of the past, dentures that slip and clack, and even in some cases decrease ability to eat and speak. Thankfully with permanent dentures, these terrible side effects are a thing of the past.
Permanent dentures or bridges are different from traditional dentures or bridges because they are anchored comfortably and securely to your jawbone. Permanent dentures and bridges work a bit like this:
A tooth implant is a special alloy rod that acts quite a lot like a tooth root, because it provides support to your jawbone. On top of that, it creates an anchoring point for a single tooth replacement, permanent dentures, or permanent bridges.
The first step in creating permanent dentures and permanent bridges, is to place the denture implants necessary to support the new dental device.
Once the healing process is complete, Dr. Bowman and our team will carefully place your new permanent dentures, or permanent bridge. These devices are anchored to the denture implants, making it so they are secure (you won't have to worry about slippage again), comfortable (with permanent dentures clicking and clacking are a thing of the past), and well, permanent.
Permanent dentures and permanent bridges are a wonderful solution for replacing teeth, or older traditional dentures and bridges. Our team is thrilled to be able to provide these excellent dental treatments to our patients who need and desire them.
Have any questions about permanent dentures, permanent bridges, or denture implants in Charlotte? Contact us today, we're ready to help you get the answers you need if you are in Myers Park or Charlotte!